Map Unavailable
Date/Time
Date(s) - Wednesday, May 4, 2022 - Sunday, May 8, 2022
7:00 pm - 10:00 pm
Categories No Categories
Building an art nouveau brooch with a stone.
This class will walk you through the skills used in building an art nouveau styled brooch. During this class you will build your own brooch with a design you select among the 3 offered with different stones available. Stones color and type are limited in the design you choose. You will earn to pierce saw your brooch, solder the pin and set the stone. Copper will be offered with the price of the class ($75). Sterling silver will be available for an extra $25 dollars ($100). The class will be held in the jewelry area in the Bodgery. Class size will be limited to 10 people, several classes will be available. Each class will be over 3 sessions:
Wednesday evenings (4th May 2022) from 7 to 10pm,
Saturday mornings (7thg May 2022) 9am to noon,
Sunday afternoons (8th May 2022) 1 to 4 pm. Depending on number of attendee's first class will be on first week of May going thru May, new class each week till we have all who want to attend covered.
There are several designs to pick from and stone choice maybe limited. Class will run 3sessions on Wednesday, Saturday, and Sunday for a total of 9 hours.
Aprons, safety glasses are available for the class participants but please feel free to bring your own. Class will take place in Jewelry. A minimum of 5 students to up to 10 students can be accommodated. Cost varies on the material used. $75 for copper and $100 for silver.
Questions about the class? You can contact Roger directly on slack or via email (waboose5861@gmail.com).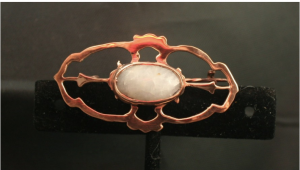 Bookings
Bookings are closed for this event.
iCal