Map Unavailable
Date/Time
Date(s) - Thursday, September 8, 2022
6:00 pm - 8:00 pm
Location
The Bodgery
Categories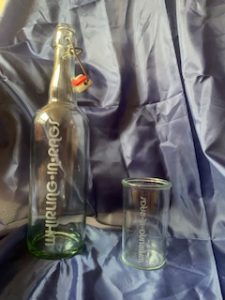 IF FOR SOME REASON YOU CAN'T ENTER THE BUILDING, RING THE DOORBELL.
In this 2 hour class, learn to use the bottle cutter and sandblasting cabinet to frost glass. While glass can be frosted on the laser cutter or etching cream, the sandblasting cabinet doesn't require toxic chemicals and can produce two tones (whereas the laser can produce one). If you are already trained on the vinyl cutter, feel free to bring your own designs. If not, don't worry, the Bodgery logo will be provided.
Class schedule
5 minutes: Bottle cutter demonstration
15 minutes: Cut your own bottle
10 minutes: Use the hot water/cold water method for breaking glass in the sink
10 minutes: Sand glass edges by hand
10 minutes: Vinyl application demonstration
20 minutes: Apply your vinyl
30 minutes: Sandblaster checkoff
Until the end of class: Engrave your glass
When: September 8, 6-8 pm
Cost:
To incentivize volunteering across the Bodgery, registration priority is given to those who regularly contribute to the Bodgery community. This means volunteer coordinators, people who have helped work on shop improvement day, Willy St fair event organizers, Board members, etc. In the future, free class vouchers may be offered to recognize those who contribute.
Regular ticket
– $27/person (6 tickets available)
Active volunteer ticket
– $20/person (1 tickets available)
No refunds for regular tickets unless you have COVID or monkeypox.
Clothing: You may get dusty, but there shouldn't be anything that will permanently stain your clothes. Wear closed-toed shoes and pants since we will be in the metal area!
Age: All ages
Contact information: Eli Wu (Board) on Slack, email is eli.p.wu@gmail.com
Materials used:
Glass bead
Sandpaper
Tools used:
Glass cutter
Sandblaster
Hot water kettle
Consumables:
Vinyl
Glass bottles
Bookings
Bookings are closed for this event.
iCal